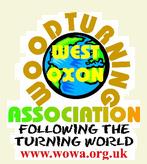 West Oxon Woodturning Association.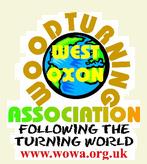 Clicking our logo above from any page
returns you to this home page
New links on Safety in the Links page

*** Yew wood ***

Newly felled tree trunks in Westwell near Burford

Contact: Denzil Verey

Discretionary donation to church funds

Pictures from the latest demonstrators are on the Gallery page

Hugo Loudon has a large Monkey Puzzle tree For Sale. You can call him on 07768 115114 or his work email : admin@Heritagetreeservices.co.uk

He is open to offers and can load any lorry...

Club poloshirts and sweatshirts now available. Sizes M/L/XL/XXL. - here being modelled by Tony. Prices are a very reasonable £13 for the poloshirt and £14 for the sweatshirt. Add £1 if you would like your name added underneath the WOWA logo. Email Dave or Maureen or phone your order - 01993 776036.
Welcome to woodturning in the Cotswolds
West Oxon Woodturning Association (WOWA) meet on the first Tuesday of every month at Elderbank Village Hall, Brize Norton, near Witney, Oxfordshire OX18 3PR. (Start 7:30 to about 10:00pm) Map & directions. Non-members are very welcome. Members and visitors must be over 16. Meetings comprise of demonstrations either by one of our members or by a professional Turner or just Hands On.

All demonstrations are enhanced by the use of video projection & sound systems which allow everyone to view the intricacies of the finer points of wood turning. Please come along and enjoy an evening.

Ever wanted to have a go at woodturning but didn't know where to start ?

At WOWA we can show you where to start. Just making shavings to competition winning pieces, we have members of all levels who can help and advise. Some do not have lathes and are just starting out, others have a few years of experience, some are excellent turners.

We all have the enjoyment of sharing our experiences at what we consider to be a very friendly and welcoming club.

With the help of a grant from the West Oxon Leisure and Tourism's Support for the Arts funding the club now has a lathe - complete with a set of tools - to loan to members for a short period of time to give woodturning a try.

Your website needs YOU !

Please contribute material to expand the website and make it more interesting.

If you find any interesting links on the internet which other members may also find interesting please send them to peter.bradley200@gmail.com and I'll include them.

Also please tell me about any 'broken' links.

Your website needs YOU !

This webpage was updated on 5 October, 2016